Patrycja Humienik's "Aubade in Which I Linger"
Thoughts on lingering and light.
Aubade in Which I Linger
Night slips from my vision grainy
as we make our way up the dirt path.

I let myself be held by sandstone
harboring a prehistoric sea.

Dryness tunnels my nostrils,
could clear every longing from me,

if I were as mutable and eager to be changed
as I say. There are days I beg to be left,

to see what I've been withholding.
Night knows I'm unlikely to leave first.

In florid glow, lulled to an almost-sleep,
the stirring morning sifts me.



from 

Hayden's Ferry Review
It's funny. The moment I read the second couplet of this poem, I immediately thought of that wonderful, classic sentence from John McPhee's Annals of the Former World:
If by some fiat I had to restrict all this writing to one sentence, this is the one I would choose: The summit of Mt. Everest is marine limestone.
McPhee's book is a godsend, the kind of text that makes you wonder about the way you think and changes the way you relate to your place in the world. It allows you, in other words, to see the "prehistoric sea" lingering and remaining in the landscape of the present — the same landscape you move through. At one point, McPhee writes that "for each and every oyster in the sea, it seems, there is a species gone forever." At another, he writes:
People think in five generations—two ahead, two behind—with heavy concentration on the one in the middle. Possibly that is tragic, and possibly there is no choice. The human mind may not have evolved enough to be able to comprehend deep time. It may only be able to measure it.
There are also sentences like this:
Mountains always come down, of course, as they are coming up.
So, well, yes. It is a pleasurable and enlivening thing to read McPhee.
I'm thinking of McPhee's work because of the vulnerable longing and gentleness at the heart of Humienek's poem today. It's there in the second stanza:
I let myself be held by sandstone
harboring a prehistoric sea.
Contained in these lines is a kind of giving-oneself-over. I let myself be held. And not just that. There's also a real attentiveness. A knowledge of the names of things. Of sandstone. Of what is prehistoric. Of what the land once looked like. Of where it held something. Of where it held an absence.
In one of Humienik's poems, "Reading Szymborska at Friday Harbor," she writes:
I'm watching an eagle
perched for the hunt, white-headed metronome.
Rapt, still I ask for song. Unspooling
in sound. How can I trust myself
when I am so seduced by beauty?
Rapt, still I ask for song. Such a statement feels like a hallmark of Huminek's poetry, which is a poetry of attentiveness and witness and beauty — a poetry of acknowledgment, one that seeks to honor the land that cradles our feet and the love that surrounds our bodies and emanates from each of us simultaneously.
I feel that sense of rapture at the heart of today's poem. It is that rapture, I think, that immediately allows today's poem to be a poem of stillness. A poem where someone lets themselves be held. A poem where someone begs to be left. A poem of the quiet spaces within us that beg for company, and then the wonder or anxiety or sorrow or joy at what is allowed to join them. An aubade, traditionally, is a poem depicting or pausing in that moment when someone leaves or departs from a lover in morning's first light. It is the song of love that precedes the act of departure. And yet, in today's poem, the speaker seems to stay. They are, at the end, sifted through by the morning.
In some ways, today's aubade reminds me of Oliver de la Paz's "Aubade with Bread for the Sparrows," which contains the following lines:
      There are ruins we witness
within the moment of the world's first awakening
and the birds love you within that moment.
There is something of that same love-of-world in today's poem, something of that kindness, something of that sorrow-ruin, something of that generosity, something of that love, something of that morning light, something of that staying-to-watch, something of that sunrise honesty, something of that compassion for every living thing, something of that wouldn't-hurt-a-fly, something of that vulnerability, something of that love again, yes, something of that love.
I have had this poem linked on a tab for a few weeks now, maybe even longer, and I think the reason I have been drawn to it in these past couple days is because I just finished reading The World-Ending Fire: The Essential Wendell Berry, a collection of Wendell Berry's essays — which, if you've read Berry, are so stubbornly and beautifully these things in defense of sustainability and sensibility and compassion and agrarianism and Luddism and grace and so much more. Reading the following lines from today's poem, I thought of Berry:
Dryness tunnels my nostrils,
could clear every longing from me,

if I were as mutable and eager to be changed
as I say.
That notion — of being as mutable and eager to be changed as [we] say — is probably something that Berry would think about as well, since Berry describes our society as one that lives within a "kind of lostness," and since he so often attempts to wonder toward what keeps us lost and what might allow us to change. His work relentlessly names that aforementioned lostness and tries, with the insight that comes from not giving oneself over to the ease of the capitalistic information age, to guide us back toward the real imaginative work of love and community. He describes each life — and this world we live our lives in — as one that is:
mortal, partial, fallible, complexly dependent, entailing many responsibilities toward ourselves, our places, and our fellow beings. Above all, it understands itself as limited.
I think that the reason Humienek's lines struck me in such a way is that, while reading Berry's work, I thought about what it means to change, and what it means to admit our own difficulty in changing who we are and how we relate to each other and the world. I realized that attentiveness is perhaps that first step toward mutability, and that acknowledgement is perhaps the next step toward change. To pay attention to the world closely enough to recognize that something is skewed: that is the first step toward realizing that something must be changed. And then to acknowledge the need for change, or the need for reversal, or the need for deceleration: that is that next step toward a differently imagined life.
Change, for the longest time, seemed to me like a wildly radical thing. It seemed like something that involved many steps, or some wayward and wild leap into an unknown. But as I've grown older, I've realized that change can look like refusal. It can look like turning slightly to the right. It can certainly look like slowing down. It can look, almost always, perhaps, like thinking again, or thinking more slowly. It can look like doubt. It can look like lingering. Like taking the time you need.
When I read the final stanza of today's poem, I notice the way it contains two seemingly divergent words: lulled and stirring. I'd caution those that say such antithetical ideas can't exist at the same time to think again. I am reminded of a few runners I followed last year who ran 3,100 miles around a single city block in New York City. The block was only a half mile long, and each runner ran, jogged, and walked around it over a hundred times a day. Boredom never entered the vocabulary of such a race. In fact, there was a kind of gentle transcendence. An opening. An attention that unlocked more surprise, more permission, more compassion, and more understanding. It was the body that was lulled, even in activity. Each footfall grew softer. And it was the mind that was stirred.
In such a way, this race and today's poem remind me of Berry's ideas about the possibilities for a newly imagined world:
These possibilities exist everywhere, in the country or in the city, it makes no difference. All that is necessary is the time and the inner quietness to look for them, the sense to recognize them, and the grace to welcome them.
Today's poem models that sense of recognition. The honesty to name the needs of the self, to name "the days I beg to be left." When I consider that line that reads Night knows I'm unlikely to leave first, I think about how much a life of "inner quietness" begs for fellowship, for other lives that cultivate the same sense of grace, attentiveness, recognition, and more. I think of how hard it is to be alone, especially when loneliness and longing feel one and the same. Yes, I feel this poem steeped in longing. We long, I think, to be longed for in the same way that we long. Does that make sense? If we were trees of longing, our branches would be warped and spindly, always reaching and twirling in the light, waiting to be wrapped by bark that marks the air the same way ours does.
Thinking of longing and thinking of companionship, I return again to that word rapt, and what it means to be held in rapture by this world, and by what it reminds us of ourselves. What it reminds us of our capability for generosity, for slowness, for deliberateness, for compassion, for caretaking, for so much more that is not unlimited as is in fact limited by our fragility and our partial and still growing sense of who we are. I want, in other words, to be as mutable as I say. I want to be changed. I want to linger, to pay attention, to change and be changed. To grow. And I think it is rapture — this sense of being seized by wonder — that reminds me of what might be possible in my own life. Rapture, when I am held still by my attention, when I can think about if I have become someone as capable of change as I might say.
Wendell Berry writes that a place of pleasure and value is one where "being there is simply all, and is enough." It is like an aubade in which no one leaves, one where lovers stay together in the morning light. In my own life, I wonder how frequently I've had such an intimate sense of fulfillment in my experience of a place, and those within that place. I wonder how frequently I have been led away from that sense of fulfillment and value because of the allure of something that seems more immediately gratifying. Or because of consumption, or competitiveness. Maybe I don't know, sometimes, what beauty is. Maybe I confuse my own definition of beauty. Maybe this happens all the time. That I am led away from the soft dailiness of value. And from the work of change. From the ordinary kindness to myself and those I love, the kindness that might allow me to say, each morning upon waking: I am here, I am staying, and I am paying attention in the light.
Yes. I am reading today's poem as a poem about staying. About what happens when we allow ourselves to watch ourselves, those we love, and the world that surrounds and holds us as we linger here together. For the better part of the last month, I have been pausing for a minute before I leave our apartment, taking a second to watch this long and lovely vine crawl across our bedroom window, changing color in the process. Here. See it and its color. See it living and dying. See how it needs the light, and how I am in love with both: each leaf and the light that allows me to notice each one.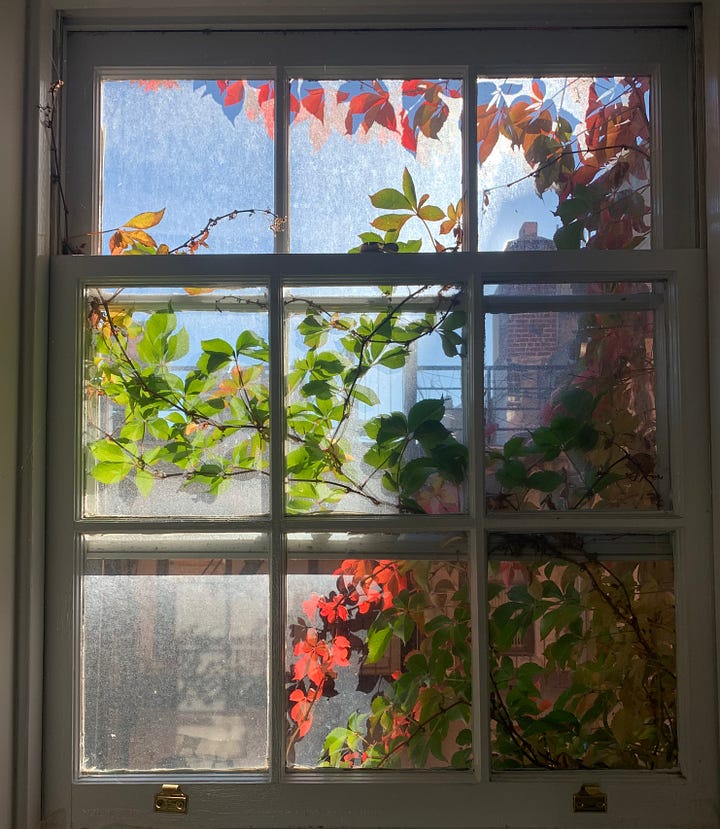 ---
Thanks for reading Ordinary Plots: Meditations on Poems + Verse! Subscribe for free to receive new posts and support my work.